New Release

Coming up in June 2023
Murder at Jaipur: A Maya Mallick Mystery
Synopsis: "When the world's priciest ruby disappears from a family home in Jaipur and suspicion falls on friends and family members, P.I. Maya becomes involved in the search for the missing ruby and will have to use her investigative skills to discover why it was stolen. Loyalty and friendship between friends and family are put to the test as P.I. Maya investigates."
Preorder Murder at Jaipur from Amazon.com by clicking here
Village Books
Click the above to order Bharti's previous title Murder at Andaman: A Maya Mallick Mystery (from Village Books).
Anazon.com
Click the above to order Bharti's previous title Murder at Andaman: A Maya Mallick Mystery (from Amazon.com).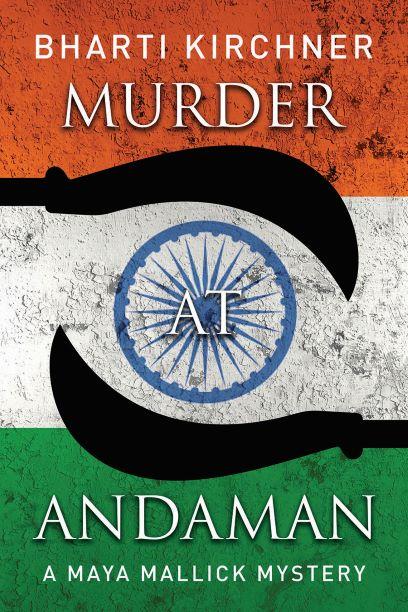 Murder at Andaman: A Maya Mallick Mystery
BIOGRAPHY
Winner of the 2020 prestigious SALA Award in creative writing, Bharti Kirchner is the prolific author of twelve books -- eight novels and four cookbooks. Her latest is MURDER AT ANDAMAN: A MAYA MALLICK MYSTERY. Her sixth, a literary historical novel Goddess of Fire was short-listed for the Nancy Pearl Award. Her work has been translated into German, Dutch, Spanish, Marathi, Thai and other languages. Her fourth novel Pastries: A Novel of Desserts and Discoveries (St. Martin's Press) was selected for the Summer Washington Reads program. Darjeeling (St. Martin's Press), a third novel, received endorsements from top national authors. Shiva Dancing (Dutton), her first novel, was chosen by Seattle Weekly to be among the top 18 books by Seattle authors in the last 25 years. ("A finely crafted novel," says Publisher's Weekly. "A fresh literary terrain," says San Francisco Chronicle.) Sharmila's Book, a second novel, was published by Dutton. ("Smart, swift, and funny," says Publisher's Weekly.)
AWARDS & HONORS - Bharti has won a SALA Award, a City Artist's Project Grant, two 4-Culture literature awards, two Seattle Arts Commission literature grants, and two Artist Trust GAP grants. She has won a fellowship from VCCA (Virginia center for the Creative Arts). She has been honored as a Living Pioneer Asian American Author.
An award winning cook, Bharti is the author of four cookbooks. Her second, Indian Inspired (Lowell House), was selected among top ten cookbooks of 1993 by USA Today and one of the best cookbooks of 1993 by Chicago Tribune. Her first, The Healthy Cuisine of India (Lowell House), was an alternate selection of Better Homes and Gardens Book Club and named by Food Arts magazine as one of the best cookbooks of 1992. Her two most recent cookbooks are The Bold Vegetarian (HarperCollins) and Vegetarian Burgers (HarperCollins).
Bharti has written numerous articles and essays on food, travel, fitness, and lifestyle in magazines that include Food & Wine, Eating Well, Vegetarian Times, The Writer, Writer's Digest, Fitness Plus, and Northwest Travel. Her essays have appeared in eleven anthologies. She is a freelance book reviewer for The Seattle Times and has profiled celebrities for the International Examiner. She has been widely reviewed and profiled in magazines and newspapers throughout the country and has appeared in many radio and television shows. She is a popular speaker at writer's conferences, book festivals, and universities throughout the nation.
Prior to becoming a writer, Bharti worked as a systems engineer for IBM and as a systems manager for Bank of America, San Francisco. She has also worked in Europe and other continents as a computer systems consultant.